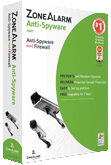 ZoneAlarm Anti-Spyware detects and remove most stubborn spyware. It includes multi-layered network, operating syste and program firewall based on trusted ZoneAlarm technology to block any intrusion attack. Other features of ZoneAlarm Anti-Spyware with Firewall includes spy site blocking, rootkit blocking OSFirewall, game mode to temporarily suppress most security alerts interruption, email scanning, wireless PC protection from hackers and SmartDefense with DefenseNet service for real-time security updates and early warning system.

ZoneAlarm Anti-Spyware Plus Firewall normally costs Euro 19.95 per license with 1 year update subscription. Users who interested in getting and using ZoneAlarm Anti-Spyware Plus Firewall product can now use the trick below to get free unique and genuine license key to activate the software with 5 months subscription period bundled in.
Actually, this is an old promotion by ZoneAlarm called Patch Tuesday Promotion running back in November 2007. However, it seems that ZoneAlarm server still sending out genuine license activation key for ZoneAlarm Anti-Spyware plus Firewall despite the promotion has expired.
To get the license key for ZA Anti-Spyware with Firewall, go to the following page:
http://download.zonealarm.com/bin/free/sum/index.html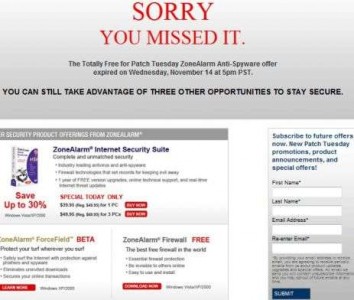 You will see a red message saying "Sorry, you missed it." Continue with "The Totally Free for Patch Tuesday ZoneAlarm Anti-Spyware offer expired on Wednesday, November 14 at 5pm PST." Ignore this message for the time being. Fill up first name, last name and email address in the form shown to the bottom right side of the page that says "Subscribe to future offers now. New Patch Tuesday promotions, product announcements, and special offers!" Click on Submit when done.
Two emails will be sent to your Inbox. One titled "ZoneAlarm New User Registration" with ZoneAlarm.com account password, while another mail titled "Free ZoneAlarm Anti-Spyware You Requested" contains a genuine personal ZoneAlarm Anti-Spyware license key or serial number code, which is valid from November 13 2007 to November 12 2008 for use on one computer.
The download link in the email points to zaasSetup_70_408_000_en.exe (version 7.0.408.000). This version has been replaced by newer version, the latest of it been version 7.0.473.000), which should be able to activate with same serial key. Download the latest version setup installer, which is zaasSetup_70_473_000_en.exe. Future update can be found at ZoneAlarm products comparison page.
To install the license key to activate ZoneAlarm Anti-Spyware plus Firewall, open the ZoneAlarm Control Center, then go to the "Overview" tab. Click the "Product Info" tab to see "License Information". Click the "Change Lic" button in this section. In the new window titled "License Information" showing up with current license key, paste the 27 digit license key, and click "Apply". If successful, a message "Your license key was successfully installed" will be prompted.