Zinio, is a company that hosts various newsstands and bookstores to sell publications on behalf of publishers, and provides sales and distribution for popular magazines and books in a digital format, to be read online or offline. One latest newsstand from Zinio is Zinio Mobile Newsstand, which offers magazines in a high fidelity, sharpness and quality portable format that can be read anywhere.

Zinio Mobile Newsstand is targeted primarily for iPhone and iPod Touch user. And best of all, the newsstand is available for free for users with an iPhone or iPod Touch. Normally, a subscription free is required to subscribe, access and read digital magazines on Zinio. But not only the privileged access for Apple iPhone and iPod Touch is free and no subscription is need, but the newsstand also include digital editions of top-selling Zinio monthly magazines from wide range of topics or areas.
The magazines that can be browsed, viewed and read for free on iPhone and iPod Touch include:
U.S. News & World Report
Playboy
Saveur
Popular Photography
Men's Health
Kiplinger's
Popular Mechanics
Penthouse
Viv
Car and Driver
PC Magazine
Elle
Technology Review
Outside
Macworld UK
Esquire UK
NME
Macworld Español
Lonely Planet
Reader's Digest
To view the selection of magazines for free, simply visit Zinio site optimized for the iPhone and iPhone Touch at the following URL link location by using mobile Safari web browser:
http://www.zinio.com/iphone (offer no longer valid, but get $5 off promo code as friends only discount by signing up here, US residents only)
On iPhone or iPod Touch, flick to scroll favorite covers, or tap any issue to start reading on iPhone. When asked to enter your email address and get latest iPhone updates from Zinio, simply click "Cancel" button to skip and bypass it. While browsing, tape "Newsstand" to back to selection of magazines, "Contents" to display table of contents, or "Share" to send content read to friends and buddies.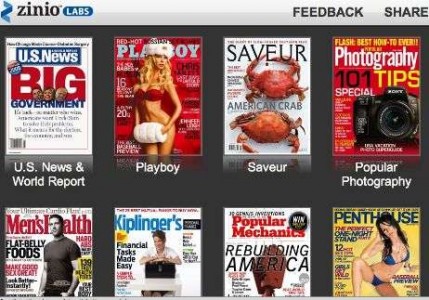 So this is a great news for iPhone and iPod Touch owners. But what about PC, Linux or Mac users? Beside, even it's considered big for mobile devices, the 3.5-inch LCD screen still still too small comparing with normal notebook/laptop or desktop LCD flat panel display that can goes up to 22-inch or more. Small screen probably brings lesser excitement and enjoyment when viewing publications such as Playboy and Penthouse with eye-catchy nude photos.
When trying to accessing www.zinio.com/iphone using a normal web browser such as Internet Explorer or Firefox, and even Safari in Windows, Linux or Mac OS X, the page will get redirected to www.zinio.com/iphone/info page, which telling you that you can browse Zinio's top selling titles, free on your iPhone and iPod Touch. To workaround the restriction to view the magazine on desktop, notebook, laptop, tablet PC computer, and even other mobile devices such as Windows Mobile Pocket PC and Symbian smartphone, simply change the user agent string for the web browser used to visit Zinio Mobile Newsstand to the useragent used by iPhone Safari browser, which read as "Mozilla/5.0 (iPhone; U; CPU like Mac OS X; en) AppleWebKit/420+ (KHTML, like Gecko) Version/3.0 Mobile/1A543 Safari/419.3". In Firefox and Safari, it's easy to change user agent to imitate and spoof as iPhone Safari browser.