If you are doing intensive mail sending from iOS device, you may realize that the default mail app doesn't provide necessary feature such as group email sending which is very useful for broader message download and effective communication. Without being limited by that, now a new app has reached App Store that will able to fill up the gaps. Named as MailShot, it is a simple free app that allows users to create individual working groups for email sending, saving all your hassle to sort and categorize them each and every time which could be time consuming.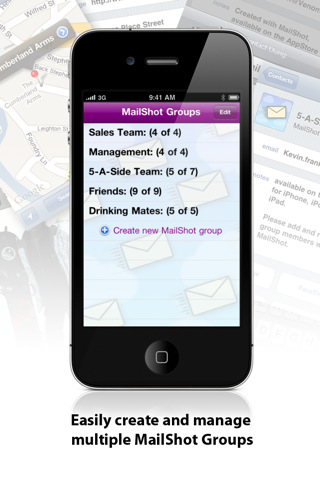 MailShot enables users to create a new group by directly inputting them from your contact lists. And with these seamless integration, users can simply select the newly created group (or any other groups) within the Mail follow by 'send' tapping will forward the emails out to the whole team rather than one by one. Not to be limited by text, it works great for those that would like to share media files or pictures while preserving the confidential level from other groups. And at any time you think an individual within the team should be left out, just deselect the name temporarily and you are done.
The free version of MailShot allows users to create 3 groups with each of them consisting up to 5 people. And an upgrade will unlock this with ability to support up to 50 groups (with each of them consisting up to 50 people). However, this is subjected to any restriction posted by your service provider in email sending capacity. Compatible with iOS 3.0 and above, MailShot works great for iPhone, iPod touch and iPad.