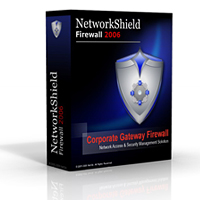 NetworkShield Firewall 2006 is comprehensive firewall software for Window operating system that protects the network from attacks and offers enhanced traffic monitoring features. NetworkShield Firewall is specially design for small and medium-sized businesses. NetworkShield Firewall comes with user-friendly interface and performance with minimal resource requirements. In addition, the software comes with multi-networks support, Stateful Firewall Protection, Servers Publishing, Recovery System turn it into a reliable solution for business, and allows users to back-up the system configuration. Furthermore, NetworkShield Firewall also supports the Stateful Inspection (ACC) technology that able to protect against unauthorized access to the network. On the other hand, NetworkShield Firewall also comes with NAT technology that provides secure access to the Internet and support Active Directory. NetworkShield Firewall can authenticate users not only by internal NetworkShield Firewall accounts but also by Active Directory accounts with Windows login (NTLM) or NetworkShield login.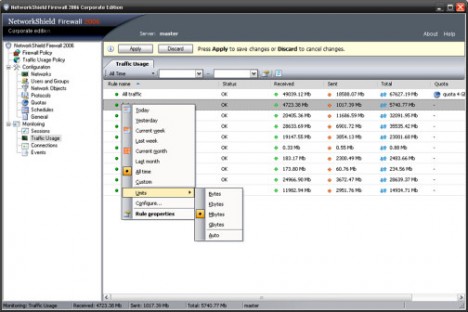 Features of NetworkShield Firewall
Firewall Protection
Powerful NAT
Support Multi-Network
Servers publishing (Mapping)
Recovery System Management
Traffic usage policy
Active Directory support
Real time monitoring
Events and Logs
Compatible with Windows 2000/2003/XP
NetworkShield Firewall 2006 (aff) is powerful and stable engine for processing and controlling the network traffic. NetworkShield Firewall 2006 normally cost $199 for purchase, which includes 10 client Access Licenses (AL) and 6 months of free updates subscription. As part of promotional offer, NetSib Company represents special free NetworkShield Firewall license with 15 Access License (AL). The license is FREE of charge for commercial or non-commercial use. Interested users now can grab the valid license of NetworkShield Firewall 2006 free by follow the step below:
Download the NetworkShield Firewall 2006:

NetworkShield-Firewall-x86.exe (32-bit)
NetworkShield-Firewall-x64.exe (64-bit)

Fill in your name, company name, and email address in NetworkShield Firewall free license activation key registration page at http://www.networkshield.com/getkey/freekey.htm.

Click on "Get Key" button when done.
Install the NetworkShield Firewall.exe setup file downloaded.
Check your inbox for a free NetworkShield Firewall serial key and enter the license key to enjoy 1-year free license activation key. The serial number is common and same to everyone, which is TWEHB-1VVHA-BLCY7.
NetworkShield Firewall support Windows 2000, Windows 2003, and Windows XP operating systems.