Norton 360 version 5.0 or Norton 360 2011 is the latest version of all-in-one security suite from Norton. This all-in-one security suite has been integrated with anti-virus, anti-malware and anti-spyware to provide powerful defense against cybercrime. The latest version of Norton 360 has been improved with several new features and enhancements.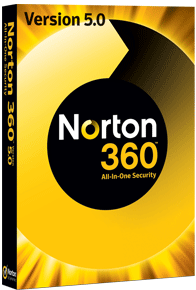 New and enhancements features of the Norton 360 version 5.0 includes:
Insight — instantly checks where files came from and how long they have been around to identify and stop new crimeware fast for industry-leading online threat detection.
PC tuneup — frees up memory to enable applications start up and run faster, and removes unnecessary files to improve hard drive performance.
Automated backup — securely and automatically backs up photos, videos, music, financial documents and other important files.
Norton Safe Web Social Media Scanner — lets the users to check their Facebook Wall and News Feed for bad links and other threats from Norton Control Center.
Proactive Performance Alerts — let the users know when an application is slowing down their PC in order for them to make changes for improve performance.
Parental controls management — provides the latest updates on kids' online activity to prevent kids safe from online dangers.
Online recovery and restore — lets user quickly and easily download, view, edit and share files they backed up online, anytime, anywhere, to any computer through a password-protected website.
Norton Safe Web — warns user of unsafe or fake websites right in their  search results and automatically blocks them.
SONAR 3 Behavioral Protection — monitors user PC for suspicious behavior to quickly detect new attacks and other crimeware.
A one-year subscription for up to 3 PCs of Norton 360 version 5.0 normally cost $79.99 to purchase. As part of promotion for Windows users, Symantec is now giving away free 90 days subscription of Norton 360 version 5 with full commercial version of setup installer download.
Those users who interested to get free license of Norton 360 version 5, the offer is available from or download from the below direct download link.
Norton 360 Version 5.0 90-days OEM installer: