PHP is a one of the web programming language used to develop dynamic and interactive Web pages. The PHP has been used-widely as an alternative to competitors such as Microsoft Visual Studio. Nowadays, a lot of PHP developer tools are available to make PHP and HTML developer life easier.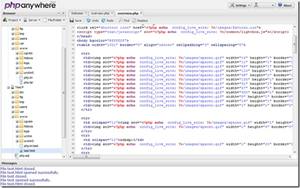 PHPAnywhere is a free web based Integrated Development Environment (IDE) for the PHP language. The PHPAnywhere enables the developer to code and edit their PHP application online at anywhere. Besides, it includes a real-time syntax code editor which support for all web formats and a powerful FTP editor.
Real-time syntax code editor.
Create and use projects to group files you commonly use together.
Change your file and folder permissions by using PHPanywhere's ftp explorer.
Every action is now logged in the window at bottom of the screen for easily track changes.
Choose from different skins to change the look and feel of PHPanywhere.
Welcome Screen and, displays shortcuts to the most common commands, recently opened files and projects.
Work without restrictions.
Share your work.
If you interested, vist phpanywhere.net.