Peggle lovers with Android device rejoice. If you're looking to play Peggle on Android, Amazon Appstore is giving away free Peggle full game to all Android users (US only though). The free giveaway of Peggle lasts only for today (June 21st, 2011), and is also in conjunction with exclusive launch of Peggle fully optimized for Android platform in the Amazon Appstore, though you can expect it to available soon on Android Market, for a price.

Peggle is a casual puzzle video game developed by PopCap and was inspired by pachinko. The challenge player faces in each level of Peggle is to shoot a random but limited supply of balls at the play field of colored pegs to clear out specifically marked pegs. While doing so, player also attempts to achieve a high score through skilled shot planning, or to be Peggle Master.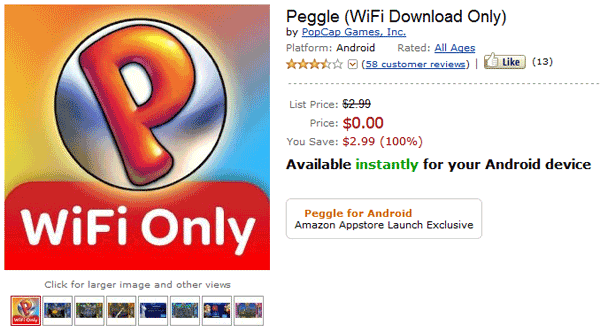 Features of Peggle:
Master 55 levels and 75 Grand Master challenges
Discover your powers and develop precision in Adventure mode
Pick your level in Quick Play or Challenge mode, or take on your friends and family in Duel Mode
Fine-tune your aim for masterful shots, save and replay your memorable moments
Use cool style shots–like Off the Wall, Double Long Shot, and Extreme Slides–to rack up more bonus points
Tips for playing Peggle victoriously:
Try to hit the purple pegs in as many of your shots as possible (they're 50 times more valuable than the blue pegs)
Clear all the pegs on the board to guarantee 100,000 points
If the going gets tough, hit one peg at a time and land each shot in the Free Ball Bucket
Peggle started to gain popularity and become extremely popular after a demo version of the game, Peggle Extreme was included as part of the Valve's The Orange Box, and subsequently freely available for all Steam users. Peggle Extreme have enjoyed more than 50 millions download.
The Peggle game app for Android takes 74.1MB of space. The application's permissions required are:
PowerManager WakeLocks to keep processor from sleeping or screen from dimming.
Read only access to phone state.
Collect battery statistics.
Modify global audio settings.
Achieve low-level access to setting the orientation (actually rotation) of the screen.
Open network sockets.
Access information about networks.
Access the vibration feature.
To get Peggle for free, visit the Amazon Appstore page at http://www.amazon.com/gp/product/B0055OQCZI/ref=mas_ty
(aff) to get the free app.
The offer valid only on June 21st, 2011, and is for US-residents only, as per availability of Amazon Appstore. If you're non-US residents, you can always use fake credit card and billing address information to register for a payment method that can work to purchase "free" apps and games on Amazon Appstore.