As a beginner in photography, it is always good to have able to view the EXIF data of the photos taken so that you can improve your skill sets especially when you are playing a lot with manual settings. There could be a number of software in the market that can deal with this, but this one, named as Free Photo Viewer seems to be much simple and more importantly, it is lightweight and free for use.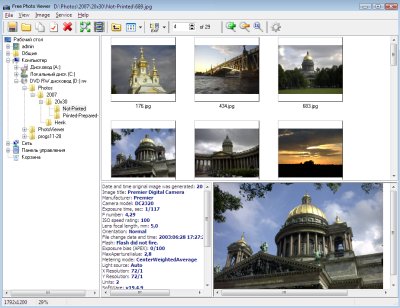 Once install and launch the utility, you will be brought to an Explorer-like interface. For the start, users just need to browse for the specific folder with all the captured photo files and all of them will be displayed in preview mode. Single Clicking on the photo will show all the EXIF data inclusive of the date and time of the photo being taken, camera model, Exposure time, ISO speed, Lens focal length, Shutter speed, White Balance, Metering Mode and many more. Besides, it also displays second level details such as the Optical Zoom Step, Flash bias, Firmware version and even camera serial number. Some of these information are really useful especially when you are playing with a DSLR camera in manual mode and wonder what kind of settings that have able to take the best shot as compared to the rest, so that as a way to improve your shooting skills in different environment.
Consumed only 1.2MB of your hard disk space, this utility is free for download here and works great in any Windows OS systems.