You may have some important or memorable photos stored in your iOS device and those photos could be easily deleted by your kids either purposely or accidentally without your awareness. If you are looking for way to protect all of them from being deleted, here is a simple tweak from Cydia that you can try. Named as PhotoProtect, it creates additional layer of protection to avoid any deletion of your photos stored in Camera Roll of your iOS devices.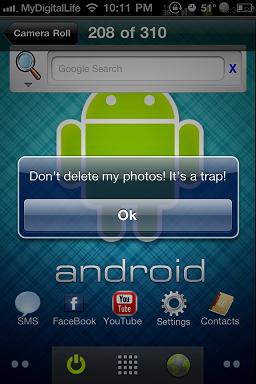 Since this is from Cydia, it also means that users will need to jailbreak their iPhone before can utilize the tweak. Once done, just head over to Cydia and under search, type in PhotoProtect and it will list down the respective tweak ready for download. Install and follow by a springboard restart will make it effective. Take note that there will not be any new icon being installed on your iOS devices, but immediately you should be able to notice the change. By now, for any time when users try to delete any photos by pressing on 'Delete' button, a popup window with text (configurable at your choice) will prompt users, disallowing any accidentally or intentionally photos deletion.
Just in case you want to resume the deletion function, just go to 'Settings' -> PhotoProtect and toggle the Protect Photos field to OFF and you will able to delete photos like usual. Since PhotoProtect is free, no harm to try it out to secure your memorable photos from being deleted by anyone.