BlackBerry users who need a personal assistant or secretary to remind them of important meetings, dinner with clients, or their favourite TV shows can grab the free task-and-time-management application designed particularly for BlackBerry users from reQall. The new reQall for BlackBerry integrates the smartphone with other applications such as email, calendar, address book, memo pad, etc to create a unified memory tool and a powerful productivity centre to assist BlackBerry users to function better and more efficiently.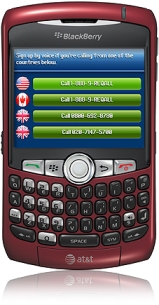 This new reQall for BlackBerry is in its Beta version and is free for BackBerry at this moment. Charges may be imposed once its free window period is over. This new tool provides users with a voice-to-text recorder. Besides text-in, users can voice their instruction and reQall will convert the voice message into text and sort the message accordingly, e.g. to-do list, note, etc. reQall understands simple keywords such as "buy", "note", "meeting" and also date and time. reQall will remind users of the important date/notes accordingly at the appropriate time. reQall also allows users to share the reminders with others via text message, email or instant messenger.
To ensure it works well with BlackBerry, reQall features a simple but elegant interface that works seamlessly with the BlackBerry trackball. Besides that, this new partner for BlackBerry also features offline capability. It can capture ideas, add to To-Do lists and create shared reminders while offline. reQall will sync them the next time users connect online.
reQall has a proven track record with Apple iPhone. BlackBerry users who want to try it with their smartphone can use the browser, go to http://www.reqall.com/blackberry, and download the reQall for BlackBerry application. After downloading, select one of the green buttons to sign up for a free reQall account. Users can sign up using voice or text. If users already have a reQall account, use the blue button, Log in to "my existing account".