VladStudio.com is an artwork website by Russian artist Vlad Gerasimov that showcases his desktop wallpapers, wall clocks and blog themes. Visitors can download the attractive wallpaper creations as a background for desktop operating systems. Each of VladStudio wallpapers is available for free download as catalog or low-quality image.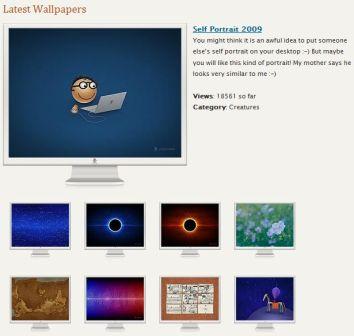 Visitor has to register and pay for premium account which enables access and download of high-quality, signature-free images, wallpapers for widescreen monitor, special background for 2 monitors and 3 monitors, WCZ format wallpapers that display clock and calendar as wallpaper, and exclusive content such as Adobe Photoshop source files of many artworks and full versions of many interface suites.
Typically, VladStudio charges $29.99 for lifetime access, $19.99 for 12 months account, $12.99 for 6 months registration, or $8.99 for 3 months subscription. To celebrate his wedding anniversary (congratulations), Vlad Gerasimov is giving away free 3 months registration for free, which allowing unlimited download of all resources and wallpaper collections on VladStudio.
The open free registration of VladStudio.com is only available on August 10, 2009. People who interested should register now at http://www.vladstudio.com/3monthsfree/. User will receive an email with free keycode to sign in VladStudio after registering.