Nowadays with the rise and more widespread of Internet usage, the people trying to create a web site have also increased substantially. Microsoft have released a free, lightweight web development solution called WebMatrix to help users in building the web site. WebMatrix is a web development tool which includes features that streamline web site development. It is designed for developers with what they need to build websites and applications by using Windows operating system.

WebMatrix is a free tool that provides core coding and database support. User can download an existing open source application in the web gallery, customize the programs, and then publish or deploy web sites, web services, or applications to web hosting providers. Beside, WebMatrix also integrates new web development technologies such as IIS Developer Express (a development Web server), ASP.NET (a Web framework), and SQL Server Compact (an embedded database).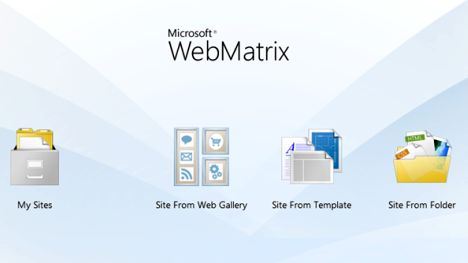 With WebMatrix, users able to start coding, testing, and deploying own web sites without having to worry about configuring the web server, managing databases, or learning a lot of concepts. Users who are new to the world of Internet but intend to create a web site can download WebMatrix setup installer: wpilauncher.exe. WebMatrix can be installed side-by-side with Visual Studio 2010 and Visual Web Developer 2010 Express.
WebMatrix supports Windows Server 2008, Windows Server 2008 R2, Windows Server 2003 SP2+, Windows XP SP3+, Windows Vista SP1+, and Windows 7 operating system.