Wise Disc Cleaner Pro, from WiseCleaner (ZhiQing Soft Ltd.), is a simple-to-use, comprehensive and award-winning junk file cleaning tool, which is designed to boost your system performance by quickly and safely identifying as well as removing unwelcome junk files in your system – thanks to its advanced, powerful scan engine. In addition to disk cleaning process, Wise Disc Cleaner Professional edition also offers disk scrubber and data recovery capabilities.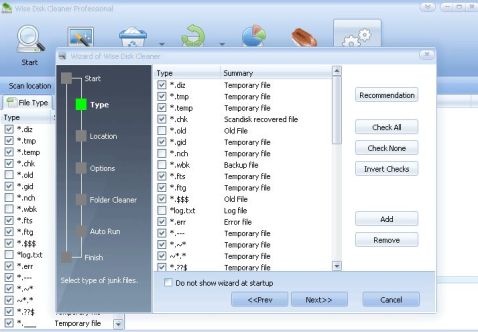 Key features of Wise Disc Cleaner Pro:
Free up valuable HDD space dramatically to enhance your system performance without affecting its running process
Advanced options to seek invalid and outdated files
Option to scan selected drive or all
Deleted file Recovery tool to effectively recover accidental deleted data files
Disk Scrubber can completely erase deleted files to ensure your privacy
Capable of exporting files that list in the result table to Microsoft Excel
Wise Disc Cleaner Pro normally priced at $19.95 per single license. As part of WiseCleaner promotion offer, interested users are now entitled to download the full version of the Disc Cleaner Professional v5.93 (latest version available to date) free of charge.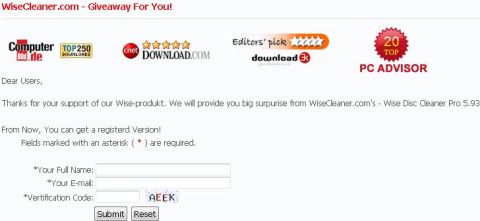 To grab a free copy of newest Wise Disc Cleaner Pro (version 5.93), just download the following special setup installer for Wise Disc Cleaner Pro:
Wise Disc Cleaner Pro: WDCProFull.exe
Install the software and you will automatically get the full version Wise Disc Cleaner Pro without features limitation. No serial number, license key code, registration nor activation required.
Wise Disc Cleaner Pro Version 5.93 supports Windows 7 (32bit, 64bit), Vista (32bit, 64bit), 2008 Server, 2000, 2003, NT/Me/98 and Windows XP (32-bit and 64-bit) OS.