You might have encountered a situation where you need to "digitize" stacks of text documents such as contract agreements and written notes. Although it is fairly easy to use a desktop scanner to convert the documents into the digital format but have you wonder if the output from the scanner is processing ready? The free Windows-based Optical Character Recognition (OCR) application – FreeOCR is the helpful tool which allow you to convert a scanned document into electronic files containing readable text.

In contrast to the scanned image, the files generated by FreeOCR are processable by word processors to support functions such as text search and editing. FreeOCR is a relatively small application with simple GUI to scan a document and convert it into processing ready text files. FreeOCR is a great alternative  if you do not wish to install the huge companion software that usually bundled together with the scanner.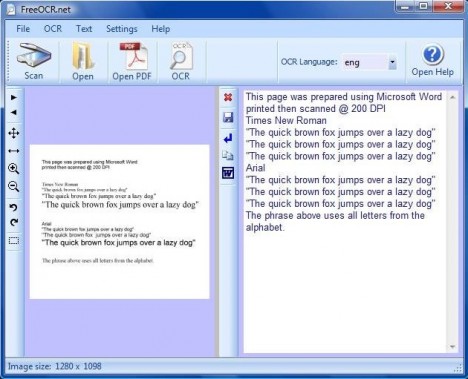 Here are the features of FreeOCR:
Scan a document from any Twain or Wia compatible scanner using scanning resolution of 300dpi
Supports most image files including multipage TIFF files
FreeOCR utilizes the open source Tesseract OCR engine which enables it to extract and recognize the text precisely.  Tesseract OCR engine is currently maintained by Google and it is one of the most accurate open source OCR engines available today.
OCR PDF rendering without any 3rd party software installed e.g. Ghostscript or Adobe Acrobat
Supported languages include Portuguese (Brazilian), Fraktur (Old German), Dutch, Spanish, German, Italian, Vietnamese, French and English.
Available for Windows 2000, 2003, XP, Vista, Win 7.
FreeOCR is distributed under the Apache V2.0 license and it is a freeware including free commercial use. FreeOCR is available free download at http://www.paperfile.net/freeocr.exe.