FUJIFILM has announced the launch of its latest and greatest digital camera, named as FUJIFILM FinePix F200EXR, which incorporates powerful Fujinon 5x wide angle (28mm) optical zoom lens, large 3-inch high-resolution LCD display with Micro Thumbnail View and 12-megapixel Super CCD EXR revolutionary extreme sensor, aiming to enrich your photography experience.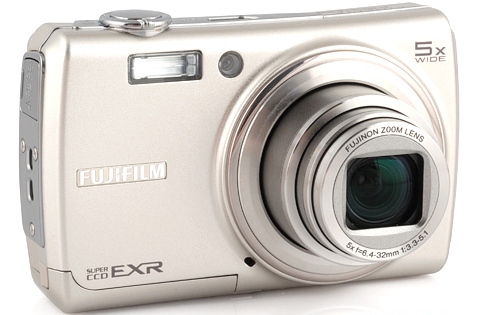 According to FUJIFILM, "The new Super CCD EXR provides superior picture quality, enabling a 3-in-1 sensor combination of Fine Capture Technology (High Resolution), Pixel Fusion Technology (High Sensitivity & Low Noise), and Dual Capture Technology (Wide Dynamic Range). With an innovative color filter array and image processing technology, the EXR ensures an advanced reproduction in imaging with exceptionally balanced quality."
Impressive Highlights Of FUJIFILM FinePix F200EXR:
Wide Dynamic Range up to 800%, revealing subtleties in shadow and eliminating washout of the bright areas.
Face Detection 3.0 with automatic red eye removal can recognize up to 10 human faces in a frame with ultra high-speed, automatically correcting focus, exposure and white balance.
EXR AUTO automatically recognizes the scene and selects the ideal shooting mode.
Dual IS (Image Stabilization) combines mechanical sensor shift image stabilization with the effects produced with higher ISO.
Ultra high sensitivity in low light (ISO 6400 at 12 megapixel resolution and ISO 12800 at 3 megapixel resolution)
Top 3 /Final 3 at 1.4 frames per second at full resolution and Top 12/ Final 5 frames per second at 3-megapixel resolution.
New "Super Intelligent Flash" lets users take macro shots with the ideal balance of flash output and sensitivity. Integrated in the Auto mode, this next-generation flash system captures both the subject and background in bright, clear details over the full flash range include ultra close-ups.
Dual Shot Mode shoots 2 images in rapid succession – one with the flash and one without, aiming to let users select the most pleasing image.
Portrait Enhancer minimizes fine lines and small skin blemishes for smooth, natural looking portraits
xD / SD / SD-HC Compatible memory card slot
"There is strong demand in the digital camera market to increase the number of pixels on a sensor, which, all too often, is used as a convenient yardstick for image quality," said David Troy, marketing manager, Consumer Digital Cameras, Electronic Imaging Division, FUJIFILM U.S.A. "Consumers have realized there's more to a good picture than just the number of MegaPixels, and with our Super CCD EXR sensor we prove that true image quality is about a combination of many factors like tone, hue, color fidelity, dynamic range, sharpness, and resolution – all brought to life vividly in the FinePix F200EXR."
The new FUJIFILM FinePix F200EXR digital camera which measures 97.7(W) x 58.9(H) x 23.4(D)mm and weights 175g is expected to be available in black and silver colors by February 2009 for about $400.