FUJIFILM has announced its new compact, stylish FinePix F80EXR point-and-shoot digital camera, which combines intuitive use with an array of advanced features including Super CCD EXR with 12 megapixel resolution, Pet Detection, EXR AUTO, HD movie recording capability, Face Recognition technology and more, aiming to enhance your photography experience.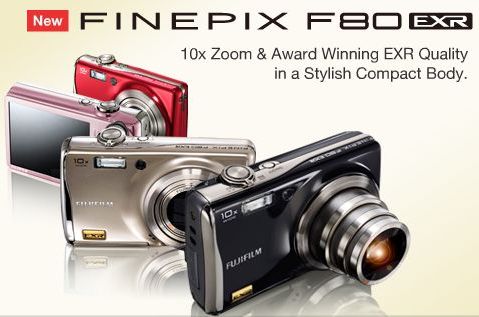 "The FinePix F80EXR has the same advanced Fujifilm EXR technology and 10x long-zoom that made the F70EXR so successful," said David Troy, marketing manager, Consumer Digital Cameras, Electronic Imaging Division, Fujifilm North America Corporation. "And takes it to the next level with even more features, such as HD Movie Capture and Face Recognition, for users to achieve outstanding results in virtually any lighting condition."
Key Features of Fujifilm FinePix F80EXR:
12 megapixel Super CCD EXR sensor – 3-way capture technology
Large 3.0-inch high-contrast LCD monitor with 230K-pixel and wide viewing angle
Fujifilm's award-winning Fujinon 10x optical zoom lens with Super EBC Coating
Face Detection technology (detects up to 10 faces at once) and Red-eye removal
Auto Dog / Cat Detection function for detecting dog or cat faces, optimizing focus and exposure for the images
Tracking Auto Focus keeps fast moving subjects in focus
Dual IS (Image Stabilization) – Picture Stabilization and CCD Sensor Shift Stabilization
HD Movie 720p capture capability
SD/SDHC memory expansion slot
Multi Frame technology plays a role in 2 new shooting modes – Pro Focus and Pro Low-light
Super Intelligent Flash efficiently controls the level of flash aiming to produce beautifully balanced flash illumination
Fujifilm FinePix F80EXR which measures 3.9 (W) x 2.3 (H) x 1.1 (D) inches and weights about 6.5 ounces will hit the market in April 2010 for around $300.