Fujifilm has unveiled the most advanced SLR-styled camera to date, i.e. FinePix S100FS digital camera. It consists of all solution for photo enthusiasts and advanced amateur photographers with the benefit of less bulky, hassle and expenses for additional lens and accessories.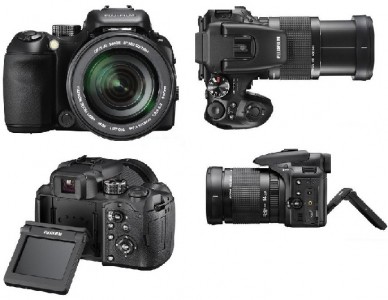 Key features are:
Extended Dynamic Range
Wide Dynamic Range (100%, 200%, 400%) adds a new dimension of beauty to every photo with newly developed 2/3-inch 11.1 megapixel Super CCD VIII "HR" and the new image processor "RP (Real Photo ) ProcessorIII".
Film Simulation Mode
Color tones of Velvia, PROVIA (popular FUJIFILM color reversal films) is reproduced with this camera. Film Simulation mode allows the seletion of most appropriate type of film for each scene.
New Fujinon Lens
New design allows ultra-high precision Fujinon lens to achieve maximum resolution at all focal lengths of 28mm-400mm equivalent and maximum aperture of a bright F2.8 (wide angle) to F5.3 (telephoto).
Due to the composit of body and lens structure, there is no penetration of dirt and dust onto the CCD and the lens is perfectly matched to the sensor and perfectly aligned for the best possible results.
High Speed Continuous Shooting
With Super CCD VIII HR and the new RP (real photo) III Processor, it is possible to have high speed continuous shooting of 3 frames/second at the full 11.1 megapixels and 50 continuous shots at 7 frames/second.
14 Scene Settings and Custom Setting
choice of 14 different scene settings which is optimized for the shutter speed, exposure and the white balance for each subject type. SP1 has four sets of scene settings specifically for nature photography. Store of own photograph settings for film simulation, Dynamic Range is also possible.