FUJIFILM North America Corporation has announced the upcoming launch of its new Fujifilm FinePix XP30, which the company claims as its first rugged digital camera equipped with GPS geo-tagging functionality. In addition to the FinePix XP30, Fujifilm also introduced the new FinePix XP20 rugged camera with no GPS geo-tagging feature.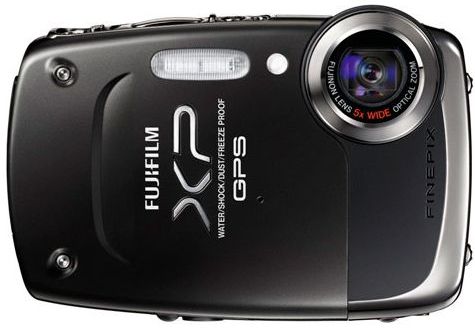 With the built-in GPS geo-tagging, photos taken by Fujifilm FinePix XP30 is tagged with location information, including a cool Photo Navigation mode to easily find a direction for visiting the location where the photo is captured.
Main features and specs of Fujifilm FinePix XP30 and FinePix XP20:
14-megapixel CCD image sensor
2.7-inch anti-reflective LCD display
FUJINON 28mm wide angle lens with 5x optical zoom
4-way protection – waterproof to 16.5 feet, shockproof to 5 feet, freezeproof to 14°F and dustproof
Facebook/YouTube Automatic Upload
720p HD video capture at 30 fps
Tracking Auto Focus (AF)
Dual Image Stabilization (CIS) system
Color options: FinePix XP30 – black, green and orange
FinePix XP20 -black, blue, green and orange
"The FinePix XP20 and XP30 take our best-selling XP10 to the next level," commented David Troy, director of marketing, Digital Cameras, Electronic Imaging Division, FUJIFILM North America Corporation. "With a sleek design, these active lifestyle cameras give users extreme photographic support. Add in the GPS geo-tagging on the XP30, and you've got the ability to take the camera into virtually any type of environment without worrying about it getting damaged."
Fujifilm FinePix XP30 will hit the market in coming February for around $240, while the FinePix XP20 is scheduled to be available in late-March 2011 for about $200.