Fujifilm announces a compact and lightweight 10 megapixel digital camera with an incredible 15x optical zoom lens, i.e. FinePix S2000HD, which has the ability to offer full compatibility with high definition television systems and display clearer photos and videos.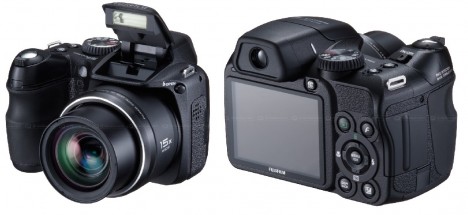 The 15x optical zoom covers an incredibly 27.6 – 414mm range from true wide-angle to ultra telephoto. FinePix S2000H also comes in Dual Image Stabilisation mode combining mechanically stabilized CCD sensor with high ISO sensitivities for anti-blur protection in order to provide sharp, clean and clear results.
FinePix S2000HD is able to shoot continuously at up to 13.5 frames per second with max 33frames (3MP mode) which is ideal for shooting fast moving kids or sports action. It comes with an enhanced playback mode for easy viewing of movies, continuous shots or normal stills image.
This camera features Face Detection technology that is capable on identifying up to 10 faces in a frame and adjusting the focus and exposure accordingly. Automatic red-eye removal checks each detected face for red-eye and corrects it in the camera automatically. Instant Zoom enables the user to keep the subject in the shot at long distance by offering a wide viewing area around the frame.
This camera also features Zoom Bracketing that enables three shots with single press of the button at varying degrees of magnification (original, 1.4x and 2.0 x). That saves the trouble to perform manual digital crop on the computer.
Features of S20000 in a glance
HDTV stills and movie capture and HD output: Capture high-resolution images and movies in 16:9 format. Accessory Kit (optional) contains the output cable and the remote controller
10 megapixel CCD sensor and RP Processor
15x optical zoom with 27.6mm true wide-angle to 414mm telephoto
High resolution 2.7-inch LCD and Electronic Viewfinder
Dual Image Stabilisation: Mechanical image stabilisation and high ISO 1600 (up to ISO 6400 at 5MP)
Dual Shot Mode: Quickly shoots two images with and without flash rapidly that enable user to select most pleasing photo
High speed continuous shooting: Up to 13.5 frames per second at Max 33 frames (3 mega pixel mode).
Photographic control: Programmed AE, Shutter Priority AE, Manual mode
Micro Thumbnail: allows for viewing an index-style image on the LCD
13 Pre-programmed scene modes: including Portrait, Landscape, Sport, Night, Fireworks, Sunset, Snow, Beach, Museum, Party, Flower, Text, Action.
Selectable playback: Make searching of specific files easier through sorting images according to how they were shot (still, continuous, and movie).
SD/SD-HC slot: Accepts SD and SD-HC cards.
Operates on 4xAA batteries: Better convenience and accessibility