Fujitsu has just released a new version of Lifebook, modeled as N7010. The specialty about N7010 is it is featured with a secondary 4-inch touch screen display, besides having a huge screen 16-inch diagonal display for those users that need to multi-tasking at the same time.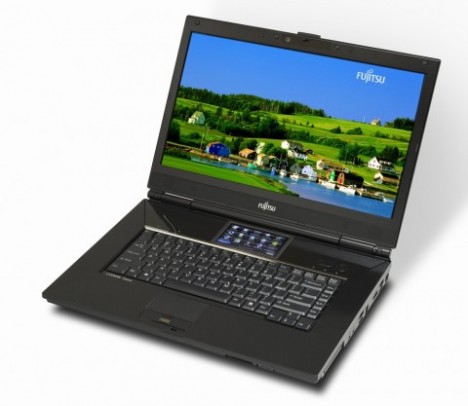 The machine is powered by an Intel Core 2 Duo P8600 processor running at 2.4GHz. Backup with 4GB DDR2 RAM and huge hard disk storage of 320GB, it is quite a powerful machine with integrated ATI Radeon HD3470 256MB graphics solution to handle intensive graphics processing. In terms of features support, Fujitsu N7010 is built with a HDMI output, IEEE1394 Firewire, eSATA for storage, ExpressCard, USB 2.0 host for expansion slots as well as wireless technology 802.11b/g/n and gigabit Ethernet port for internet connectivity. Not to be surprise, it has added both Blu-ray optical drive and TV tuner module, making it one of the best multimedia mobile solution in its product line.
On top of all these great feature sets, Fujitsu N7010 has added a very useful 4-inch dual independent touch screen display with 480 X 272 resolution that allows users to have a secondary screen for other activities such as Instant Messaging, touch panel controlling and etc without occupying any of your main screen pixels. The model is already available in US region at a selling price of $1500 and is expected to be sold in Japan by December 26th.