The LIFEBOOK AH572 is the 3D notebook from Fujitsu, which was unveiled at CES 2011 and is now available for purchase. According to the company, it is the first notebook that allows the users to record in 3D with webcam. The power of the 3D notebook is booted up by Intel Core i5-2410 processor which operates in 2.3GHz and runs on Windows 7 Home Premium (64bit).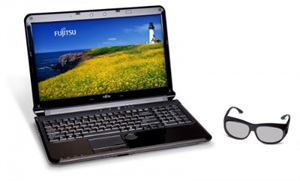 Featured with a 15.6-inch XGA display with integrated Xpol 3D filter technology and 1366 x 768 resolutions, the LIFEBOOK AH572 3D notebook is also equipped with a 1.3-megapixel camera with the ability to record 3D video. It boasts with 4GB of DDR3 RAM and 500GB Serial ATA 5400 rpm hard drive, integrated with HD 3000 graphics, two USB 3.0 ports, supports HDMI connectivity, wireless 802.11 a/b/g/n and Bluetooth v2.1 enabled, and comes with a Lithium ion 6-cell battery that provides up to seven hours of battery life.
The Fujitsu LIFEBOOK AH572 3D notebook is available for the price of $999 at Fujitsu Store with a pair of circular polarized 3D glasses.