In view of the popularity of vehicle entertainment in today's automotive industry, some manufacturers do see the needs to have higher bandwidth transmission protocol that are specifically designed to deliver full media streaming while on the road. Just recently, Fujitsu Micro has announced the new controller IC (integrated circuit) for this purpose. Named as MB88395, it is claimed to be the world's first 1394 automotive controller in existing market.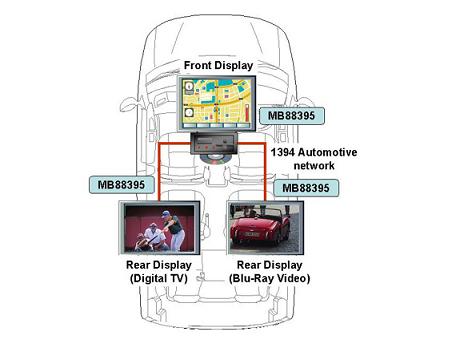 The new controller is claimed to be able to deliver multiple HD (High Definition) media streams so that it can be viewed by rear seat passengers without affecting the display quality. Surprisingly, it can support few full HD contents with 1280 X 720 resolutions simultaneously from media source such as the famous Blu-Ray or other digital media players. Thanks to its ultra high bandwidth of 800Mbps that doubles the data rate as compared to its predecessor from both physical and link layer point of view.
Besides, MB88395 is further enhanced with DTCP (Digital Transmission Content Protection) that helps to protect media data from being altered or duplicated without proper authorization and permission. No pricing is available now, the total solution is expected to be able to bring down the whole system implementation cost as much as 30 percent and will be available by earliest 2011.