Garmin-Asus announces new nüvifone M20, an all-in-one phone, mobile web-browser and premium navigation system with a Windows Mobile operating system. nüvifone is powered by Windows Mobile 6.1 Professional. The stylish phone features enterprise email, which is the essential part for on-the-go professionals to manage their busy work and personal lives. The phone combines a dual-band 3.5G/tri-band GSM phone with Wi-Fi connectivity, desktop-like Internet browser, push email, document viewing, multi-media capability, Bluetooth and Garmin sat nav.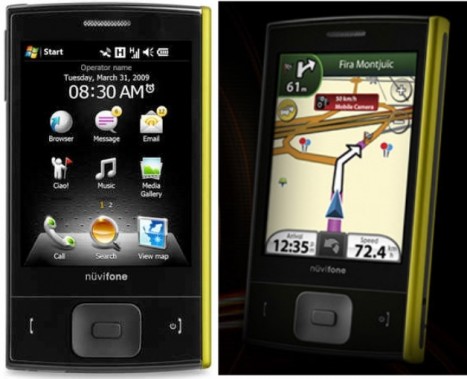 The nüvifone has a full QWERTY soft keyboard and can also be synced with a computer so that contacts and emails are always available. HSDPA wireless connectivity and enterprise grade Wi-Fi (802.11 b/g) allows emails are sent and received quickly, including those with attachments.
The phone is designed with location based services (LBS) which are linked to frequently used applications such as calendar, contacts, email, internet applications etc and simplifies the nüvifone user's day as they travel from one location to another.
nüvifone M20 supports high download speed of up to 7.2 Mbps. It offers a desktop-style web browsing experience, where users can zoom and pan web pages with their finger as they view the information in either portrait or landscape orientation.
The phone GPS has the navigation capability of a premium Garmin nüvi sat nav. It comes with preloaded maps and points of interest (POIs), such as hotels, restaurants, stores, fuel stations and more, for North America, Eastern and Western Europe, or other regions. The operation is simple and straightforward. The GPS gives turn-by-turn voice-prompted directions and automatically recalculates if a turn is missed along the way. The device includes quick access to online points of interest through Internet enabled local search.
The GPS navigation is taken one step further via Connected Services – Garmin-Asus expandable range of online applications, i.e. real-time traffic information, White Pages, weather, flight status, local events, and movie times, adds location intelligence to navigation, phone and browser function.
One of nüvifone product line, i.e. Ciao!, is an LBS application that enable users to stay up to date on their friends' whereabouts and status by linking numerous location-centric social networks. nüvifone users can see their friends' location on a map and then be able to navigate to that location with ease. Privacy is not overlooked here as it is optional for nüvifone users to have the their social network location information automatically updated.
The phone comes with a 2.8″ TFT touch screen VGA (640×480) display, built-in microphone and speakers, built-in 4Gb/8Gb My Storage, and ActiveSync for Outlook, Microsoft Office, and multi-media synchronization. The device has 3MP camera automatically geotags images with the exact latitude and longitudinal coordinates.
The nüvifone M20's pricing and availability information is expected to be announced in the first half of 2009. Visit www.GarminAsus.com for additional information about the nüvifone product line.