Garmin nüvi 880 is the first portable GPS product to boast full speech recognition capabilities. It's a widescreen navigator features speech recognition (SR), preloaded maps, hands-free calling and an FM transmitter — plus real-time local weather, traffic, movie times, gas prices, stock information, local news and events.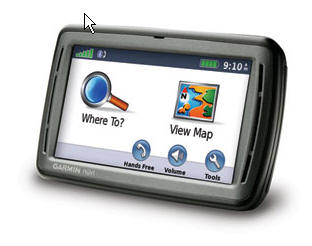 Speed Recognition
nüvi 880 speech recognition allow the driver to safely control nüvi's interface with voice by ensuring both hands is kept on the wheel. It can be activated by simply press the button on the remote (which attaches to the steering wheel).
MSN Direct
nüvi 880 is one resourceful personal travel assistant With next-generation dynamic content from MSN Direct. The included receiver and free trial service¹ to MSN Direct allows the user to check the weather, avoid traffic backups, compare local gas prices, get enhanced movie listings, stock information, news and local events.
WideScreen Display
4.3-inch display makes it easy to read from any direction. Moreover, it is sunlight-readable.
Pre-loaded maps
nüvi 880 comes with preloaded City Navigator NT street maps and millions of points of interest (POIs) such as hotels, restaurants, fuel stations, ATMs and more. The device even announces the name of exits and streets so you never have to take your eyes off the road. In addition, nüvi 880 accepts custom points of interest, such as school zones and safety cameras and lets you set proximity alerts to warn you of upcoming POIs.
Where am I
Just speak or tap "Where Am I?" to find the closest hospitals, police stations, fuel stations, nearest address and intersection.
Hands-free Calls
nüvi 880 allows hands-free calling utilising Bluetooth wireless technology with a built-in microphone and speaker. It can be done by pairing with compatible Bluetooth phone. Simply speak or dial numbers with nüvi's touchscreen keypad to make a call.
Handy Design
Its high-sensitivity internal antenna and thinner design making it easy to slip in your pocket or purse.
Other additional features
nüvi 880 includes many entertainment and travel tools. That includes MP3 player, audio book player, JPEG picture viewer, currency converters, Garmin Games, alarm clock and more. The FM Transmitter allows the user to hear audio, including voice prompts, MP3s and audio books, through vehicle's stereo.
Other features includes FM traffic alerts and comes with Garmin Lock, an anti-theft feature. Furthermore, photo navigation that allows download Google Panoramio pictures via Garmin Connect Photos website. Optional plug-in microSD cards such as Garmin Travel Guides for detailed data on attractions is also available.