GE (General Electrics) has started to ship its newly launched Cell Fusion DECT phone recently. Due to the competitive cordless phone market, GE has been trying to distinguish itself by integrating a Bluetooth synchronous capability on its cordless phone. The model known as GE28128EE2 has combined few technologies such as DECT (Digital Enhanced Cordless Technology) and Link-to-cell Technology that make it so unique as compared to traditional cordless phones.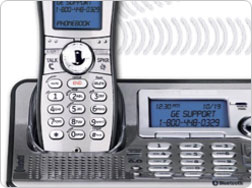 The technology is not new but the innovative idea has made it another interesting selling feature in the saturated cordless phone market. The principal behind is there will be a synchronization between the cordless base and your mobile phone via Bluetooth. And the cordless base will then setup the call to other landline callers, just exactly like what we call using normal cordless phone at home. The advantages of it are the users can be conveniently talking though the mobile phone in the home while able to fully utilize the left-over credits in his cell phone calling plans.
The model can support up to seven cordless handsets and two mobile phones respectively. Bundled with the main handset and a charging cordless base, it will be available in commercial market at $180.