Gefen is keeping up to speed in providing advance peripherals and devices for consumer market. Previously we talked about USB Extender that can extend USB connectivity up to few hundred meters. And now there is another device which is available for commercial market that worth to be mentioned. Known as Wireless HDMI Extender released by Gefen, the device is capable of streaming HD (High Definition) Media Contents wirelessly in your home with QOS (Quality of Service).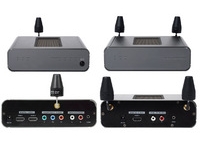 HDMI (High Definition Multimedia Interconnect) is a new trend in today market. But in order to carry high bandwidth video data over the air wirelessly and without interference, there is still some challenge for design and manufacturing before coming out with the end product. Amazingly, the product is said be able to achieve a full HD of 1080i at 60fps. Other lower resolutions being supported include 480i, 480p and 720p at even higher frame rate. The performance is compliance with Full QOS (Quality of Service) drafted by WiMedia Alliance MAC specification. On actual specification, the radius of transmission can cover up to 30 feet while maintaining high throughput of 65Mbps. This is more than sufficient for typical home usage when each HD streaming may generally just consume less than 25Mbps throughput. The frequency channel being used falls within 3.1 to 4.8GHz to minimize interference.
Priced at more than $600 , it could be a good bargain if you really want to get rid of cables running all over from living room to bedrooms with HD media streaming wirelessly.