You might have stored your favorite songs in various folders and various directories according to albums or singers. Some of the advanced MP3 players might allow you to generate a random playlist based on songs selected from various folders or directories but many cannot. If your music collection is stored in a folder structure and you want to mix your own songs for your listening pleasure, a free tool, Random Mix Tape Maker, is the choice.

Random MixTape Maker is a simple tool which allows users to create customized playlists from multiple mp3 file sources on their system. It features a simple interface with a few key buttons for users to create, save and shuffle their own playlist. Users just need to add their favorite songs, create a playlist and save it. Of course this simple tool also allows filtering functions such as limiting the playlist by total song play time duration or file size.
With free applications such as Random MixTape Maker, users can enjoy their favorite music without going through the hassle of selecting songs when they want to have some fun. Random MixTape Maker can be downloaded via the link here.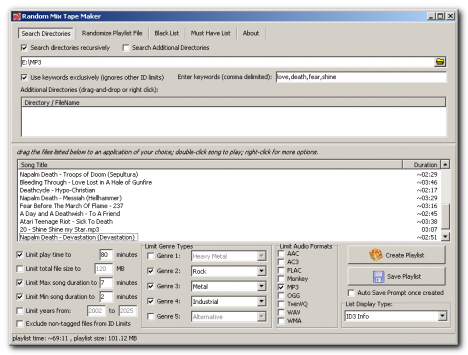 Below are the summarized features of Random MixTape Maker:
Randomly selects songs based on genres, title keywords, and more
Limits created playlist by total song duration (good for burning audio CDs)
Limits created playlist by filesize (good for burning mp3 CDs/DVDs)
Limits minimum and maximum durations of songs to include
Recursively searches directories; easy to search one or many.
Flexible blacklist lets you easily skip songs or directories you don't want to include.
Full drag+drop support into the program and from the program out to other apps.
Fast – just keep hitting the randomize button till you get a playlist you like.
Can randomize existing playlists instead of directories if you prefer.
Output displays mp3 tag info or file paths.
Creates playlist files or plain text output.
Previews a song from the constructed playlist by double clicking.