Genie Backup Manager is a powerful comprehensive utility software which can be used for backup and recovery of valuable data, email, media, scheduler, exe file, and much more. This application is user-friendly with a simple interface and step-by-step wizard allows users to backup photos, media, email, and personal files or folders to keep them in a secure location. With Genie Backup Manager Home, users can safeguard the data from natural disasters and system failures to secure offsite storage location.  In addition, Genie Backup Manager Home Edition also comes with data protection, bandwidth throttling, AES encryption, and support for ZIP password. The program has been designed to handles scheduled and manual backups with ease, and can even purge to backup media of old backups on a regular schedule.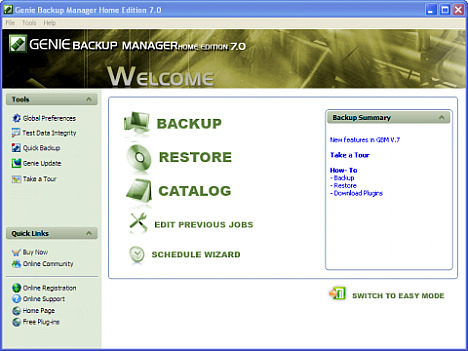 Features of Genie Backup Manager Home Edition:
Complete system backup
Safe remote backups
Backup locked & open files
Protect applications
Automated scheduled protection
Supports nearly every backup media format such as CD, DVD, USB memory, external and internal hard drives, floppy, ZIP / JAZZ drives, and more
Full, Incremental, and Mirrored Backup
Bit-Level Verification
Local and remote backup support
Scheduling Wizard
Swift restore backup files .exe
Receive email notifications of backup status
Power shutdown after backup
Automatic re-connectivity when connection is lost
Pause/Snooze automated backups
File filters
Genie Backup Manager Home version 7 is the older version of Genie Backup Manager Home. The latest Genie Backup Manager Home available is Genie Backup Manager Home V8. As part of promotional offer, the developer is giving away a full, unlimited version of Genie Backup Manager Home V7, typically worth $49.95 for a single license. To claim the free license and download full version Genie Backup Manager Home V7, follow these steps:
Visit the registration page at http://www.genie-soft.com/magazines/pcpro.aspx.

Fill in the name, a valid email address, and other required information, and then click on "Register" button.
An email from "Genie-soft" with the license code and the download link for Genie Backup Manager Home V7 will be delivered to registered email inbox once form is submitted.
Download the setup installer of Genie Backup Manager Home V7 from the following direct download links: GBMHome7.exe (16.01MB)

Install the Genie Backup Manager Home V7 and use the serial key code to register and unlock the trial to full version program.
Genie Backup Manager Home V7 is compatible with Windows 2000, Windows XP, and Windows Vista operating systems.