Managing and organizing a huge collection of photos or digital images can be unthinkable without a good photo manager application. Working compatibly with Windows XP and Windows Vista, Pictomio is a free photo organizer that is created to assist users to manage, organize, categorize and archive photo collections. Users can use Pictomio to categorize and sort their digital images based on filename, file size, date taken, photo quality (pixel count), etc. Users also can use it to edit and save the Meta data of the digital images using its integrated EXIF editor. Web designers can use its built-in colour pipette and measuring tool to determine color values from pixels and measure a section of the image.

Pictomio also can do image rating, high quality zooming, slide show, image preview in 3D effect, album creation and easy upload/download to Flickr, Locr, Facebook, ImageShack, Picasa, Photobucket.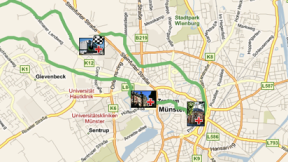 Besides the above mentioned, another interesting feature that catches the eye is the useful add-on to Pictomio, pictoGEO. Frequent travelers can make use of this add-on together with the pictoGEO GPS data logger to do so called "geotagging". What is "geotagging"? "Geotagging" refers to the linking of geographical information, e.g. degrees of longitude and latitude with certain types of media such as a digital camera. With this application and the GPS data logger, users can "geotag" the location where they take their photos. The geographical information can be easily imported onto virtual maps such as Google Earth to highlight certain spots of your visit to create a memorable tour album.
Download Pictomio 1.2 inclusive of pictoGEO Add-On for Windows XP/Vista via the link here.