Posted:
September 4, 2009
/
Under:
Operating Systems
/
By:
My Digital Life Editorial Team
In a new campaign to promote Windows 7, Microsoft is giving chances to Windows 7 enthusiasts around the world to be part of Windows history by hosting a house party to mark the official launch of Windows 7. The host will not only get the rare opportunity to invite friends, buddies, relatives and other guests to his or her home for a reason (Windows 7 launch), but will also get a special "Signature Edition" of Windows 7 Ultimate and Windows 7 Party Pack for free.

The Windows 7 Launch House Parties to the tune of thousands will be available globally, as Microsoft intends to select participants to host personal Windows 7 Launch Party in the following countries:
Australia
Canada
France
Germany
Hong Kong
India
Italy
Japan
Mexico
Spain
UK
USA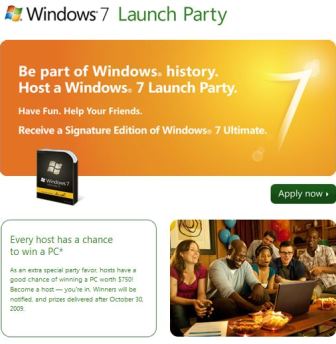 Other requirements is that the applicants should have a computer system that is currently running Windows XP, Windows Vista or Linux, which can be upgraded to Windows 7 Ultimate. Besides, the host should invite at least five or more guests (the minimum threshold vary depending on target country) to the party venue, which can be hosted at home or other community areas such as cafe and mall.
Apparently Microsoft is sending out invites to Microsoft employees, House Party's user base and Windows 7 testers or enthusiasts to join the house party program, and general public ca apply to be hosts for Windows 7 Launch event http://www.houseparty.com/windows7, but do note that host spaces are very limited, and only one application per household (party) is permitted. And applicants will be required to sign up for House Party account, manually or by connecting Facebook or Windows Live account. A short screener survey has to be filled out afterward. A confirmation email will then be sent to registered email address, where applicants have to click on the confirmation link found in the email to finalize the application, otherwise the application may not be considered.
As a plus for US-based successful hosts who are not Microsoft employees, they will also be eligible for a sweepstakes to win a mini-notebook laptop personal computer worth $750, of which a total of sixty four (64) prizes will be awarded.
Microsoft employees in the U.S., U.K., Germany, France, Canada, Australia, Mexico, Hong Kong, Japan, Spain, Italy and India are expected to host parties between Oct. 8 and 12, prior to Windows 7's official debut. Microsoft employees in other markets and countries may also host the parties, although they won't have the benefit of the House Party support or the special party packs. The lucky winners selected to host Windows 7 launch party on behalf of Microsoft in the House Party program would hold the sanctioned Windows 7 launch parties anytime between the Oct. 22 launch and Oct. 29.
Those who are selected to host the Windows 7 Launch Party will be made known on or around September 17, 2009. If you're not kind of people who are warm to receive guests at home, it's possible to get free Windows 7 Professional by attending Microsoft organized Windows 7 Launch Events.