Still lurking around Internet for torrents to download Windows Vista with SP1 DVD media image and ways to activate Windows Vista as full version OS? Microsoft apparently is giving away a free full version product CD key for Windows Vista with SP1, together with its DVD media, ship to your home free of charge.

The Windows Vista SP1 giveaway is actually part of the Windows Vista with Service Pack 1 Desktop Deployment & Evaluation Kit, which consists of the following items:
32-bit Windows Vista Ultimate with Service Pack 1 (it mentions evaluation copy on the website, but the box (see photo below) exclude the term).
Microsoft Office 2007 Professional 180 day trial.
Desktop Deployment Toolkit.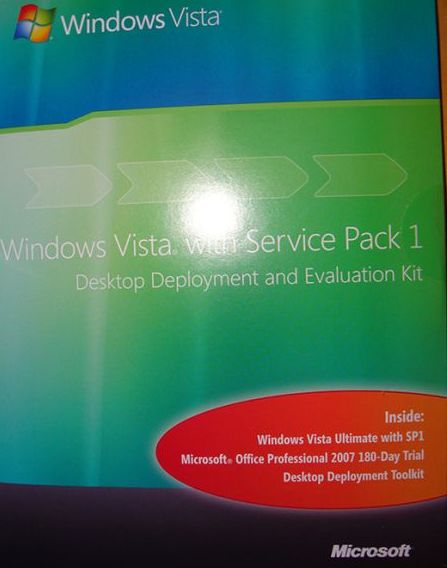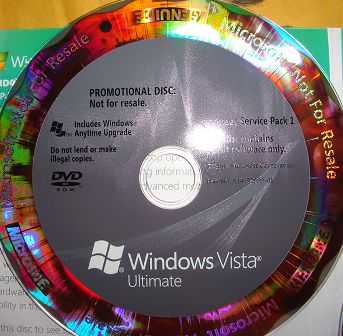 The Windows Vista with SP1 DVD Setup Installation Media Disc has the "Promotional Disc – Not For Resale" wording on it. Well, if the offer turns up to be a trial (mean no product key is included or only time limited serial product key is given), at least offer taker can get a free genuine and official Windows Vista SP1 DVD disc from Microsoft (together with genuine DVD of Microsoft Office 2007 Professional)
Register and request for Windows Vista Service Pack 1 with Desktop Deployment & Evaluation Kit to be shipped to your home address for free at the following URL. No shipping charge apply. Shipping address only valid in United States of America (USA).
https://microsoft.order-5.com/windowsvistaSP1-ddekit-request/shipping.aspx
Note that some users reported success submission even though most encounter the following error message after clicking Submit button. So you may want to keep trying, and pray.
The following error occured during the processing of this page.
CommitOrder failed: <Error><Message>Note: These products are no longer available to order. For assistance with your order, please contact Customer Care.</Message></Error>

An email has been sent to the developer of this application, and the issue will be addressed shortly.

If you would like to be notified upon a resolution of this, please email Customer Support.

We apologize for any inconvenience this may cause you.