Weather might probably affect your decision on whether to go shopping, play outdoor sports or stay at home for an afternoon nap. Of course you can go to some weather forecast sites such as National Weather Service, Weather.com, etc to get the latest forecast results on weather conditions, air quality, temperature, sky condition, humidity, wind speeds, etc. However, if you are frequently checking the weather forecast and looking for quick access to the forecast result, you should probably get a copy of Weather Pulse to be installed in your computer.

Weather Pulse is a powerful weather monitoring tool that displays detailed weather forecast information for selected cities in US and some popular cities in the world. This application will indicate to users the current weather conditions. It shows the temperature, humidity, dew point, wind, UV index, visibility, pressure, sunrise and sunset time. Besides, Weather Pulse also features weather alert options, 10 day forecast, hourly forecast, detailed forecast and more. Users who are looking for some popular satellite weather images from around the globe can also get it from Weather Pulse. Users can save these weather images or email them to friends.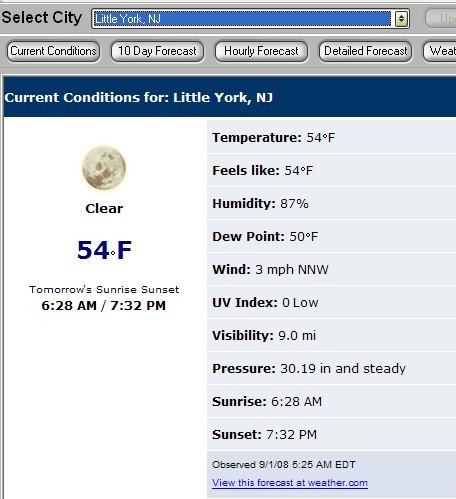 Screenshot of Weather Pulse
Weather Pulse is a completely free application. It is user friendly and it is an ads free application. This tiny application integrates all the weather information into an easy-to-read interface. A small tray icon which displays the current temperature for your selected city will be added in your Windows task tray. If you mouse point at the icon, it will display the current weather summary. Users can also add custom radar and weather images, view animated images and monitor multiple zip codes with this application.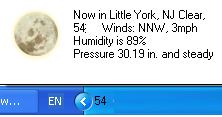 Tray Icon displays the current weather condition
Get the latest Weather Pulse 2.10 Build 7 via the link here.