When running applications consume too high memory usage than they should be, your computer will encounter slowness or even become unresponsive. Instead of letting the computer to become unresponsive due to excessive memory consumption, have you ever thought that what kind of software utility that can help you to monitor the memory usage and alert you to take necessary action before your computer become unresponsive? Usage Monitor is a utility that is able to help you monitor on the memory usage consumed by applications and give you an alarm when it hits the maximum limit predefined by you.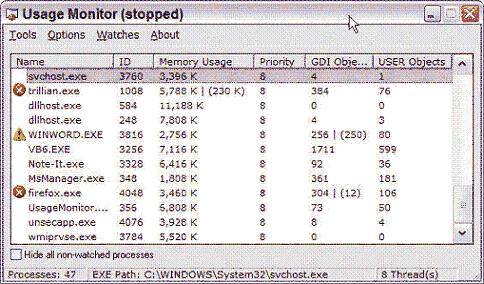 Usage Monitor is a tiny utility that can monitor memory usage for any processes running in windows at background. Beside monitor on memory usage, it also allows you to monitor on GDI or user object. You can set a limit to any of processes that you would like to monitor. When the limit threshold is hit, it will alert you with few different ways, depend on how you configure the alarm type. For instance, you can choose to either display a small pop up at the taskbar, or display a message box, or flash the taskbar, or even execute a file.
Usage Monitor v1.9.0.1 is absolutely free to download and it only consume 1.16MB of your hard disk space. It is compatible to run on Windows 98/ME/2K/XP/2K3/Vista.