The world's leader in motherboard manufacturing, Gigabyte has unveiled its smartphone called as GSmart S1200 at Mobile World Congress (MWC) in Barcelona. The phone is completely flash-based and run on Windows Mobile 6.1 with free upgrade to 6.5 when released. The new S1200 is featured with a 3.1-inch WVGA touch screen and equipped with a 3-megapixel camera with auto-focus function.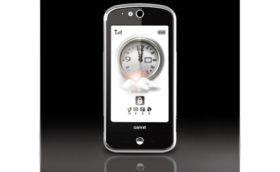 Its boasts 528MHz Qualcomm processor, 256MB Rom and 128MB Ram. In addition, it also features a built in GPS, Wi-Fi, Bluetooth 2.0, mini USB and MircoSD card slot.
Available in chromed trim with measurement of 105.5 x 52 x 11.4 millimeters, GSmart S1200 is expected to be available in second quarter of 2009 and the price is not yet specify.