Tied of budget to purchase additional LCD monitor but would like to use your Windows PC in extended display mode? If you are experiencing this situation, here could be a software solution for you. Named as GiMeSpace Desktop Extender, the utility is designed to extend your desktop virtually without any limit so that you can easily scale or move any contents beyond your display monitor size.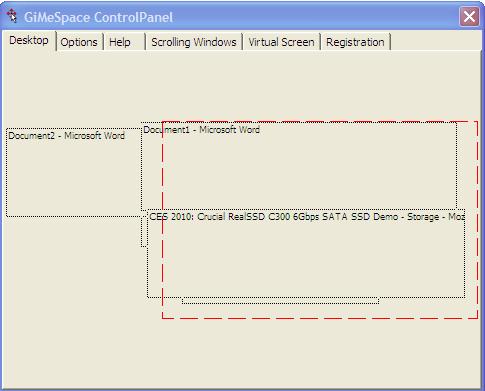 Once install and launch the tiny utility, users will be brought to a simple control panel where there are options to configure the virtual screen. Without complicated setup, the extended display mode will work right away as and when users move their cursors to the edge of the LCD screen, you will notice that the display will extend beyond the border, allowing all the contents to be arranged side by side with virtual display for more effective work. It may sound confusing initially especially when you have too many opening windows but in case you can't locate the right screen, do click on the icon resided at system tray to view the actual location with viewable dotted red window as a quick reference so that you can move your position accordingly.
Consumed less than 500kB of your hard disk space, GiMeSpace is compatible with all Windows Operating Systems with its 3072 x 2304 virtual screen driver that able to extend unlimited virtual screens in Windows PC environments.