Google has officially unveiled its new Google Mail or Gmail phone call service, with free phone call service applicable for calls to U.S. and Canada destination. With this new service, users could dial a phone just like a normal phone and able to call people to virtually anywhere in the world from the web browser.

The new call phone service is different with Google Voice, Gmail Chat or Gmail Video Chat that required both parties to be online at their computers, signed into Gmail at the same time to have a normal conversation. As the name suggests, phone calling feature could call people directly on their phones and allows users to use the computer's microphone and headsets to call somebody on his land line, fixed phone or mobile phone in real time.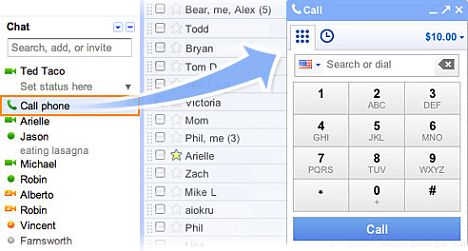 To use this phone calling feature, users just need to install the voice and video chat plug-in and do some simple setting following the process below:
Go to Voice and Video Chat feature site.
Download the Voice and Video Chat Plug in.
Close all open browser windows and then install the Voice and Video Chat Plug-In.
Sign in to Gmail and the setting up is done.
Once finish install just click "Call phone" at the top of your chat list and dial a number or enter a contact's name.
Unfortunately, currently it will only be free for local or international calls to U.S. and Canada, and calls to other countries will be charged as low as $0.02 per minute (see comparison table).