Google has released an update to its interesting image recognition search application – Google Goggles for Android to version 1.4, which is designed to offer better user experience with new features and enhancements, including better result suggestion capability, enhanced search history and improved business card contact recognition.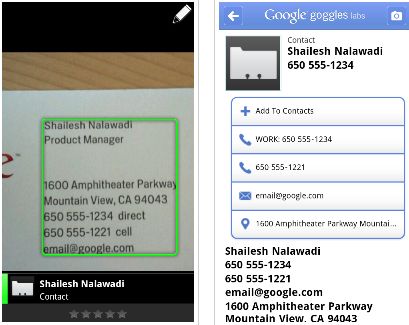 In bid to enhance the Google Goggles' result accuracy, you're now allowed to suggest a better result in case you are not satisfied with the search result or while the tool misidentified the captured image. It's a pretty cool feature to help enhance the image recognition engine as the visual search is still a complicated task.
Besides, the Goggles version 1.4 allows users to search for prior Goggles results, add personal notes on desired results as a reminder, as well as share their results with others.
In order to save your precious time, the built-in business card recognition function also receives an improvement with the easy recognition as a contact. In simply words, it is able to easily, quickly and directly add the scanned information to your smartphone's contact list.
The new Google Goggles v1.4 that compatible with Android 1.6+ based mobile devices is now available as a free download from Android Market.
Watch the animation video for the Google Goggles: