Google Hacks is a search helper tool that helps users to use Google Search functions. The software program that has its project homepage hosted on Google Code describes Google Hacks as "a compilation of carefully crafted Google searches that expose novel functionality from Google's search and map services. For example, you can use it to view a timeline of your search results, view a map, search for music, search for books, and perform many other specific kinds of searches. You can also use this program to use google as a proxy."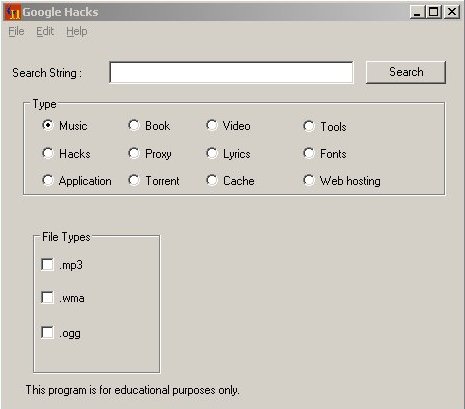 With GoogleHacks, users able to use the program to search for all kind of files or information they want by using Google search engine. For example, music, book, video, tools, hacks, proxy, lyrics, fonts, application, torrent, cache and web hosting. For files, users can also specify the file type and extension to search for. For example, .mp3, .wma or .ogg for music file type. In actual, Google Hacks will interpret and construct a search query based on user's selection criteria and search string enter using various Google advanced search operators, and then launch a web browser window to perform the search query with Google.
But don't expert Google Hacks is the solution for your daily cracking need. At best, it's a starting point for users who need to use advanced search operators and various Google parameters. With Google Hacks, a hint "search string" is created and hinted, without having users to remember all these parameters. App author also discourages using of this program for illegal purposes.
Download Google Hacks from here. Google Hacks is available for Portable Apps, U3, Mac Dmg, Mac Bin Classic, Mac Bin, Linux and Windows. Source code and no installer zip file also available for free download.