The most popular online mapping service provider, Google Maps and Earth, has recently launched its latest feature "Street View". Street View is a feature that provides pedestrian-eye looks at parts of a selective location such as San Francisco, Las Vegas, Miami, New York, etc. The coverage of the locations will be expanded to other places soon. With this feature, users can virtually walk the streets of New York, for instance, check out the hotel or even zoom in to locate the bus stop and restaurant.

The emergence of "Street View" has received immediate response from its arch rival Microsoft! On the same day thatGoogle launches its Street View, Microsoft also offers a three-dimensional (3D), photo-realistic view of cities via its Microsoft Live Search Maps. This latest feature is quite similar to Street View offered by Google. It provides "a bird's-eye" view of cities in Britain, Canada and the United States and will expand to cover more cities worldwide soon.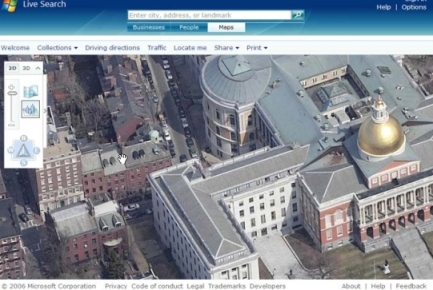 The competition between these two online mapping service providers is getting more and more exciting. The ongoing battle between these two internet giants, Google and Microsoft, ultimately benefits the consumers.
Download Google Earth.
Download Microsoft Live Search Maps.