Sprint and Samsung Mobile have officially announced the upcoming launch of latest Sprint 4G smartphone – Google Nexus S 4G (made by Samsung), which features a 1GHz Hummingbird processor, 4-inch Super AMOLED Contour display, 5-megapixel camera, NFC (Near Field Communications) technology, Android 2.3 Gingerbread OS, Google Voice integration, 3G/4G Mobile Hotspot and 16GB iNAND flash memory, running on lightning-fast Sprint's 4G network.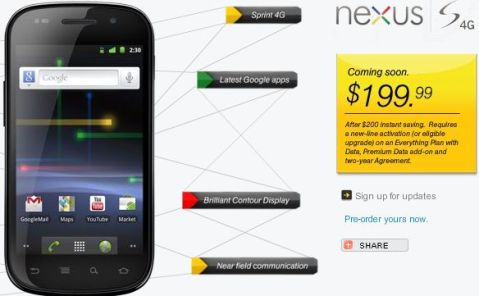 In a simple description, Google Nexus S 4G incorporates the same features as Google Nexus S – with added high-speed 4G capabilities.
"Nexus S 4G shows the strong commitment Sprint has to Android, and when combined with our 4G network capabilities, it gives customers the option of a pure Google experience," commented Fared Adib, vice president for Product Development at Sprint. "As the first 4G smartphone with Android 2.3, Nexus S 4G delivers on the promise of the advanced data capabilities of 4G to deliver an incredible Web browsing experience, offers quick and easy access to future Android updates and access to the services built into Google Voice."
Google Nexus S 4G which measures 4.88 x 2.48 x 0.44 inches and weighs just 129 grams is slated to hit Sprint stores this spring for $199.99 on a new 2-year service contract.