Google has recently announced the new version of its Google Mobile App for Blackberry smart phones with two useful features, named as Search by voice and My Location respectively.
Google Search by voice feature allows users to conduct search by using voice commands. To do so, the users need to hold down the Talk button on the main screen of the application and simply speak any search world. Beside the Search by voice, My Location enables users to enter their search term and the application returns a list of closest possible match. As an example, if the users enter "fish n chips" then it will return the fish and chips restaurants closest to you.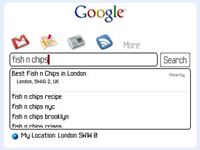 "Now on your vacation, you could have sworn your friend said to meet in 'Lester Square'. Unfortunately, 'Lester Square' is nowhere to be found on the Tube Map. A quick voice search on Google Mobile App (just press and hold the green button) for 'Lester Square' reveals the true spelling. Leicester Square is actually only two stops away on the Picadilly Line. Problem solved!" said by Zanolin Google Mobile App engineer.
The new version of Google Mobile app is now available at m.google.com for all Blackberry running on OS 4.1+ and with Search by voice on OS 4.2 and above, except Blackberry Storm.