Posted:
February 27, 2009
/
Under:
Operating Systems
/
By:
My Digital Life Editorial Team
Google has released an updated version of Google Toolbar for Internet Explorer (IE), now at version 6 Beta. The main feature added in Google Toolbar for IE web browser 6 Beta is Quick Search Box (QSB). Quick Search Box brings Google strength on search and navigation to not only web pages, but whole computer and Internet, as QSB provides search functionality outside of the browser.

After installing Google Toolbar 6 Beta for IE, and if Quick Search Box is enabled (default setting, if not turned off), a Google log will appear on the Windows Taskbar. To activate Quick Search Box, just click on the Google logo, or press Ctrl+Space keyboard shortcut. When searching in Quick Search Box, it will provide search and website suggestions, relevant bookmarks, and also matching application programs, which can be ran directly from the search box. QSB will also adapt and customize to usage pattern in order to provide quicker results with fewer characters typed.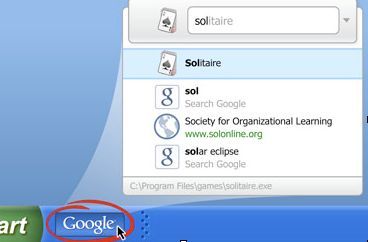 Other improvements and enhancements in Google Toolbar 6 Beta for IE including Toolbar search box now displaying high-quality website suggestions and sponsored links as users type your query, and clicking on these results will direct users directly to the website instead of opening Google search results page. Also new to Google Toolbar for IE is new tab page which replaces original IE new tab page. Google Toolbar new tab page displays most viewed sites, recently closed tabs and bookmarked pages.
Download Google Toolbar 6 Beta for IE from here.