Previously we mentioned about Google Voice which is limited for iPhone users, good news now, the app has been refreshed with compatibility extended to both iPod Touch and iPad users.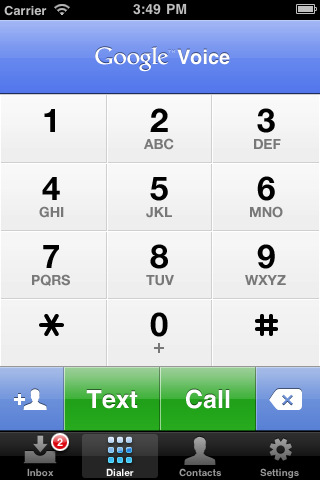 Don't get too excited when it said it is compatible with iPod Touch and iPad as it doesn't necessary mean that users can now use them as a calling devices. But instead, users will be able to initiate voice calls from their iPad/iPod Touch through a new feature called Click2Call via iPhone that can be connected to cellular network. By clicking on the 'Call' button in the app from your iPad or iPod touch, users will be prompted to choose a phone to connect to. Once established, the respective phone will ring and they are ready to talk. Besides a number of bug fixes such as text messages crashing, inbox loading, contact pictures mixed up and etc, there are some feature enhancements that worth to be mentioned as listed below:
Faster access to address book with a dedicated 'Contact' button on Dialer tab
Remove OK dialog before text messages sending
'Do not Disturb' feature that can divert calls to voicemail straight away
Automatically disabling text forwarding when Push notification is enabled
The newly released Google Voice is compatible with iPhone, iPod touch and iPad with iOS 3.0 version and above.