Google Inc. has recently signed an agreement with LG, Korean mobile phone maker to enable its YouTube features in LG's upcoming 3G/HSDPA mobile phones. By having this popular feature on mobile phones, users will be able to record, upload and view the video streaming on the gadgets when they are away from home PC. This is another big deal after earlier collaboration with Apple Inc to implement its world's biggest sharing website browsing support in Apple iPhone.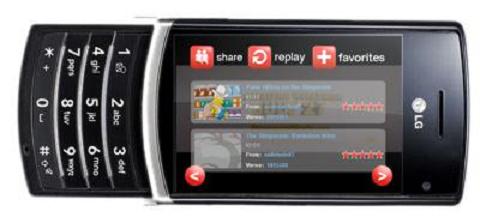 Some of the existing LG mobile phones such as LG-KS10 already have Google software pre-installed that allows the users to utilize Google search engine, Gmail Mobile as well as accessing Google Map Mobile when they are on the move. What LG will do next is to develop an add-on GUI interface that enable user to browse and upload the video clips easily. As comparing to Apple iPhone, LG's phones seem to be more interesting as users will be able to capture the live video clips and upload it directly without much hassle. And its 3G or even HSDPA enabled network is able to outperform iPhone in terms of streaming bandwidth and uploading/downloading speed.
The 3G/HSDPA YouTube enabled mobile phones will be first available in Europe by second half of 2007. Once the service provider network services become common, we should expect to see more cooperation between mobile phone manufacturers and popular online website to add more values and services to end users.