Sometimes as an end mobile computing user, we may be too demanding especially when hoping to have a huge screen for multiple windows and applications running simultaneously but at the same time, we don't want it to be too bulky for convenience when carrying along. However, with existing solution, we can't go too far except relying on external LCD panel for display extension which is not always available. Here is how the new innovative solution from gScreen that able to fill up the gap. Dubbed as Spacebook, it is claimed to be the first laptop model featured with dual 15.4-inch that can be slide out for display extension when necessarily.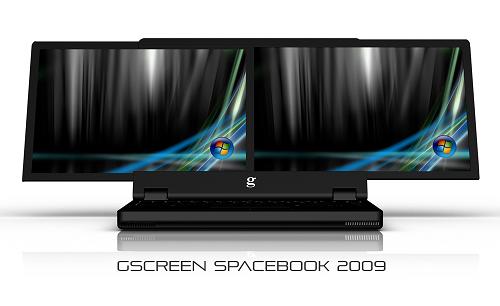 As expected, the Spacebook will be equipped with high end specifications in order to match its extremely huge screen display of 30-inch vertically. Powered by Intel Core 2 Duo P8400 processor clocking at 2.26GHz, it will be backup by a huge 4GB memory RAM as well as a mainstream Nvidia GF900M GT discrete graphics solution tailored for intensive graphics processing. One impressive design worth to be mentioned here is the sliding LCD display module which can be stacked and kept, and can be extended vertically with dual screen side by side to increase the productivity while on the move.
This is very useful especially for those business executives or professionals that rely much on huge display screen for productive work. No confirm date on availability yet, even though tentatively due by end of this year, the Spacebook may be preloaded with Windows Vista or Windows 7 and will be retailed at Amazon.com with a price tag of less than $3000.