The well known Chinese electronics manufacturer, Haier has announced its Haier H7 Android phone in CommunicAsia 2009 in Singapore. Haier H7 is the fourth handset to feature the Android operating system after the HTC dream, Magic and Samsung I7500.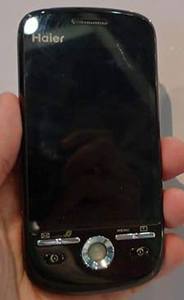 The full touch screen H7 phone will include at least Android version 1.5, but it will preloaded with version 2.0 if the open OS is ready by the time the handset ships out. The Haier H7 phone is featured with a 2.8-inch touch screen display, equipped with a 2-megapixel camera, supports Wi-Fi, Bluetooth enabled, has built-in FM radio and integrated with A-GPS navigation.
The Haier H7 is expected to be available in September in France and is priced at $150.