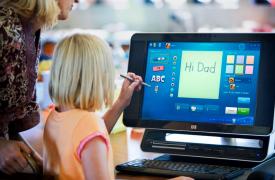 The computer has invaded the office, the living room, the study and even the bedroom. Now it is set to conquer the kitchen. Dubbed the kitchens of the future, these dream abodes consist of Hewlett-Packard's new TouchSmart IQ770 PC.
First thing you do when you wake up? Go to the kitchen, turn on the coffeepot, put the bread into the toaster and switch on your computer. You can check the weather, share prices, sports results, celebrity gossip and personal reminders.
You can key in appointments on the user-friendly family calendar via a touch-sensitive screen. You can watch TV or play a DVD on a high-definition 19-inch screen, which moves up and down or tilt to give viewers at far corners a better vision.
The kitchen, a traditionally communal spot, is being invaded by a smart machine. Yet the computer is bringing the family together. It becomes the new focal point and detracts from the stereotype image of the kitchen being the place of the woman or housewife. Priced at US$1,699, Touchsmart IQ770PC is the latest must-have gadget. It makes a practical Christmas gift for the whole family.