Instant Messaging has become an important communication tool nowadays. It has become an indispensable tool especially for youngsters and white collar workers. They prefer to use this online communication tool to connect and keep in touch with friends rather than other means of communication because it is no cost, easy to use and it is fun. They are various add-ons or plugins can be installed to the chatting programs such as MSN, Yahoo Messengers, Gtalk, etc to make the chatting process more interesting and dynamic. If you are using Windows Live Messenger, HiYo is an interesting free add-on you shouldn't miss.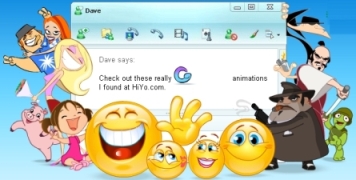 Compatible with Windows Live Messenger 8.1 and 8.5, HiYo offers tons of additional emoticons, animations, winks, sound, Avatars (for display photo), nudges, text FX, audible, and more to enhance MSN enthusiasts' chatting experience. Users who want to add in these cool funny stuffs can download it from HiYo. The installation process is pretty simple and it can be done within a few clicks. An additional toolbar will be added to the message window for easy access to HiYo content after installing.
HiYo has recently launched its latest Beta version which was designed to target the new Windows Live Messenger 2009. Users are invited by the developer to download this particular Beta version for Windows Live Messenger 2009.
Direct Link:
HiYo for Windows Live Messenger 8.1 & 8.5
HiYo for Windows Live Messenger 2009