Your social network friends in Facebook are spread across a bunch of Instant Messenger networks such as Yahoo, MSN, AOL, Google chat, etc. Difficult to chat with them outside Facebook? Well, a new desktop application called Social.IM which was launched recently will let you house all your Facebook friends under one IM and enjoy instant chatting and interaction.

Social.im. only works with Facebook currently. It imports your Facebook network list into an IM buddy which is accessible from the desktop. You can then chat with your Facebook friends directly via Social.im. Social.im has released its Alpha version 1.0.2493. However, this application is only available for Windows users. Users can download this software via the link here.
Once you have installed Social.im, you will be led to a window showing Facebook's login page. Enter your login info. Social.im will extract your network list and Facebook avatars into a buddy list. If your network friends have also installed the application, you can see their status appearing as 'available', 'busy' or 'offline' as shown in the screenshot below. The contacts' status with a blue circle means they have yet to install and log in to Social.im.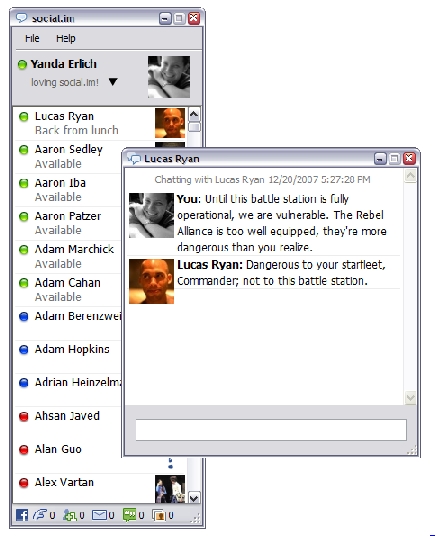 The outlook and features of Social.im are quite similar to other Instant Messenger software. You will be alerted when a message comes in, receives a Facebook "poke", etc. This is quite interesting and useful if you are a Facebook enthusiast!