Virtualization takes a turn towards better experience in Windows 7, with the inclusion of Windows Virtual PC (WVP) and Windows XP Mode (XPM) or Virtual Windows XP (VXP). The main highlight of the new features in Windows Virtual PC and Windows XP Mode is seamless virtual application mode, where applications can run in Windows 7 host native desktop as though they're running locally by utilizing service similar to Terminal Services Remote Applications Integrated Locally (RAIL) components (RemoteApp).

With Windows XP Mode seamless application integration, user can install a software product in Virtual Windows XP Mode virtual machine that provides by Microsoft, and the shortcuts to access the program will automatically publish to host operating system, i.e. Windows 7. Then, user can run these "virtual applications" natively from host OS without actually opening the Windows XP VM window, and the virtual applications will be launched by vmsal.exe, the seamless application launcher.
All newly installed applications can be auto published to host's Start Menu. However, Internet Explorer 6 (iE6) and Outlook Express come pre-installed built-in with the Windows XP Mode VHD virtual machine. You can't manually install IE6 or Outlook Express in Windows XP Mode VM to publish it as virtual applications on Windows 7.
For users who want to use the legacy Internet Explorer 6 and/or Microsoft Outlook Express, here's the trick to make the apps publish and available as virtual applications on Windows 7 Start Menu, and can be seamlessly access and run from native Windows 7 desktop.
To publish IE6 and Outlook Express to host OS's Start Menu and able to run IE6 and OE via Virtual XP Mode, just drag and drop or create a copy of the shortcut of Internet Explorer 6 and/or Outlook Express to All Users Start Menu folder, which is located at C:\Documents and Settings\All Users\Start Menu folder.
Tip: It's possible to put in sub-directory of "Start Menu" folder. In this case, the sub-folder will be published too.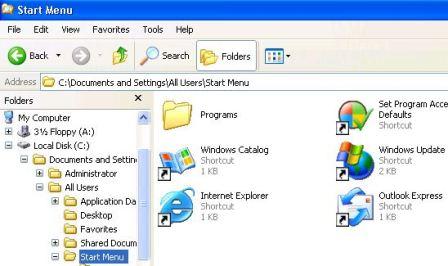 Once the shortcuts are added to All Users' Start Menu, a new folder named Virtual Windows XP Applications will be created under Windows Virtual PC folder in host Windows 7 Start Menu. The shortcuts to IE 6 and Outlook Express can be found inside the new folder, and this is how Windows Virtual XP Applications can be run directly from Windows 7 host desktop.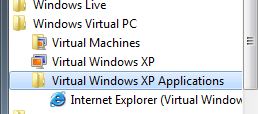 Tip: The initial loading of virtual applications may take a while as system has to power up the Windows XP Mode virtual machine, although the VM desktop window won't be shown. Once all the virtual application is closed, the VM state will not be powered down immediately. Instead, the virtual machine will run for a few minutes to wait for any other virtual application that user may run. If none is executing, XPM VM will be put into hibernation mode or saved state.
Unfortunately, some other applications especially HyperTerminal and Windows Media Player 9 (WMP9) cannot be published and used in Windows 7 yet, until hack is found.